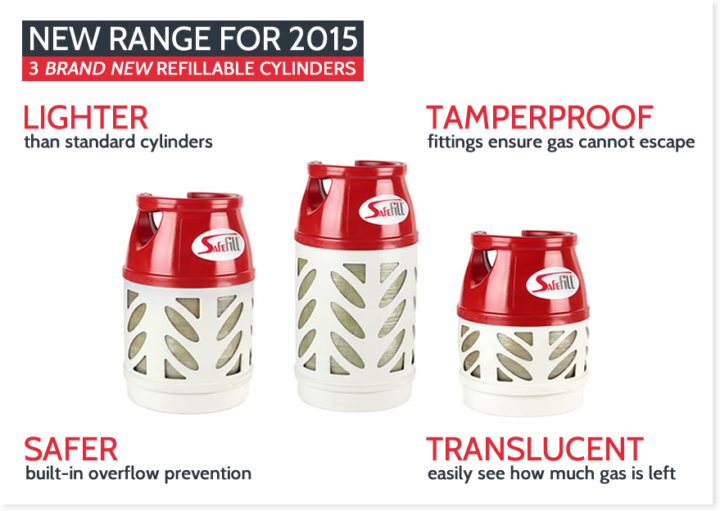 | | |
| --- | --- |
| Cylinder Size | Price (inc VAT) |
| Large 10kg | £168.00 |
| Medium 7.5kg | £158.00 |
| Small  5kg | £153.00 |
SafeFill
Install Oil offer SafeFill gas cylinders which can be safely refilled at autogas and LPG stations around UK and Europe. SafeFill gas cylinders are ideal for touring caravans and campervans, they are much lighter than standard cylinders, they are also cheaper than standard propane bottles because you can refill them yourself!
The bottles use a standard 37mbar propane regulator.
Additional fittings and adapters are available so you can fill the cylinder anywhere in Europe.
Instructions and specification available for download here:
https://www.safefill.co.uk/pdf/cylinder-instruction-leaflets.pdf
Automatic overfill prevention device – cannot be refilled past 80%
Additional back-check valve if you accidentally forget to close the valve after filling
Tamper-proof fittings which only allow gas to exit when connected to an appliance
No complicated hoses or adapters to connect – fill gun fits directly onto the Safefill valve.
Small Cylinder (5kg) –
396mm tall. 310mm diameter.
Medium Cylinder (7.5kg) –
482mm tall. 310mm diameter.
Large Cylinder (10kg) –
583mm tall. 310mm diameter.
Refillable propane cylinder